"This Is An Attack On Freedom"
Please listen to the Mexican President's warnings about Silicon Valley censorship when asked about the Trump ban. Following the center-right Chancellor Merkel, the leftist AMLO said they were becoming "a world media power" anointing themselves "judges of the Holy Inquisition":
"German Chancellor Angela Merkel blasted Twitter's decision to ban U.S. President Donald Trump.
'The right to freedom of opinion is of fundamental importance,' Steffen Seibert, Merkel's chief spokesman, told reporters in Berlin on Monday."
What makes Merkel's comments particularly striking — apart from her well-reported acrimony with Trump — is, as @AliceFromQueens noted, Europe generally and Germany specifically have far less permissive free speech traditions than the US. Yet even Merkel finds this alarming.
A related reminder: during the Snowden reporting in 2013, Merkel called Obama, furious when it was revealed that the NSA had spied on her personal calls, and reminded him that she grew up in East Germany and explicitly compared NSA spying to the Stasi:
https://www.theguardian.com/world/2013/dec/17/merkel-compares-nsa-stasi-obama
Prior to Chancellor Merkel's warnings about the dangers of Silicon Valley censorship in the context of the Trump ban, Mexico's President AMLO issued an even harsher warning about how dangerous it is for tech monopolies to control online speech:
https://www.washingtonpost.com/world/the_americas/mexico-leader-condemns-twitter-facebook-for-blocking-trump/2021/01/07/e454ed32-514f-11eb-a1f5-fdaf28cfca90_story.html
Just as it true with the Assange case — where most of the world considers Assange a hero and the prosecution of him a grave attack on press freedoms, while US liberals cheer it — here, too, US liberals are utterly isolated: swooning over Silicon Valley silencing their enemies.
Given both Merkel and López Obrador are denouncing the recent Silicon Valley censorship, it's probably time to call them white supremacists or "fash-adjacent" or whatever the lowly left-liberal slur of the day is for those who question the union of tech monopolies & neoliberals.
In addition to the German Chancellor & Mexican President, 2 French ministers said they were "shocked" & disturbed by the spate of Silicon Valley censorship, including against Trump, calling tech giants "the digital oligarchy" & a "threat to democracy."
https://www.bloomberg.com/news/articles/2021-01-11/merkel-sees-closing-trump-s-social-media-accounts-problematic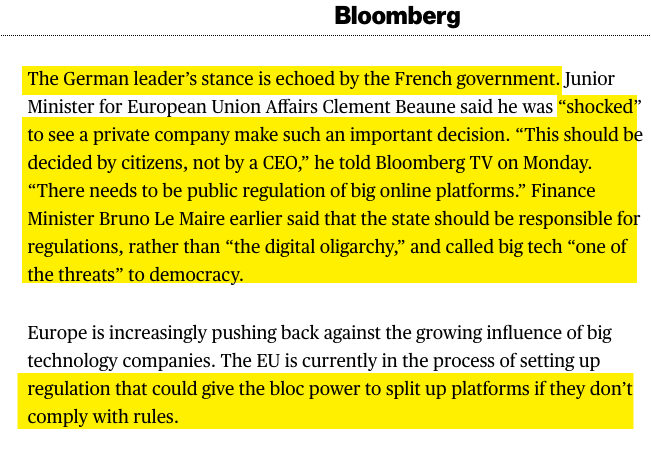 Originally tweeted by Glenn Greenwald (@ggreenwald) on 1, January 11, 2021.